General Information on Screening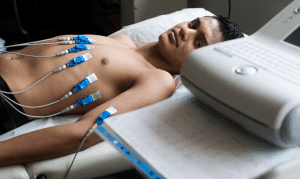 There is a simple way to diagnose most cardiac abnormalities. This is by having an ECG (electrocardiogram) test. Results should be read by a cardiologist. For extra clarity an Echocardiogram (ultrasound scan) may also be done at the request of CRY's consultant cardiologist. If there has been a young (under 35) sudden death in the family, the family is entitled to be screened on the NHS and should speak to their GP about arranging these tests.

If you are an elite athlete (represent your country in sport) we also recommend that you should consider screening.
It must be emphasised that if a diagnosis of a cardiac condition is confirmed it can have serious implications with regard to life insurance and mortgage applications.
Screening Means Having
An Electrocardiogram (ECG), which looks at the electrical conduction pathways around the heart.
Small stickers known as electrodes are placed on the client's chest and the wires connect to an ECG machine whilst you lie still.
A printout of the heart's electrical activity is obtained for evaluation by the cardiologist.
This test is painless, non-invasive and takes only a few minutes to perform.

An Echocardiogram (Echo) is an ultrasound test (such as offered to pregnant women) which looks at the structure of the heart. CRY consultant cardiologists may request this test but most attending a CRY cardiac screening event will not require one. These tests are only carried out at the request of the CRY consultant cardiologists and can not be pre-booked.

From the information provided on screen, measurements are taken which give a guide to muscle thickness and size of the chambers of the heart.
Again, this test is non-invasive and painless; and it takes approximately 20 minutes to perform.
The tests are performed with the client lying down on a couch or bed. For both tests clients will need to be undressed to the waist.
Implications of further testing
In the rare event an abnormality is confirmed, this may affect some types of mortgage and health/life insurance applications and that it may also affect some careers. Information derived from these tests are confidential and will not be disclosed to anyone other than your doctor or others who are involved within your care. Information from these tests will be held on a database at CRY and can be used anonymously for research purposes. For more information on research go to www.c-r-y.org.uk